INIU Power Bank B63 (25000mAh), Design for Laptop
Sale price
$55.99
Regular price
$119.99
Trusted Delivery

Free Expedited Shipping
No Reason 30-Day Money Back

3-Year Warranty

24/7 Customer Support
30 Days Price Match Guarantee
INIU guarantees that we will refund you the difference if you find a lower price from us within 30 days of your purchase
Endorsed by Top Influencers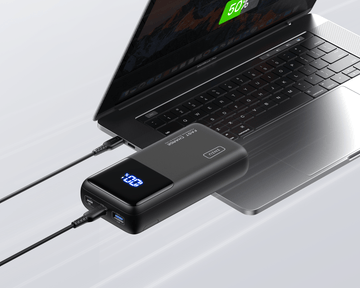 65W Fast Charging: Power Unleashed.

INIU the Flagship 65W fast charging solution, delivers unrivaled speed and efficiency. Charge your MacBook Pro to 50% in just 30 minutes, while meeting the demanding charging needs of your newest phones, tablets, and even the latest Steam Deck. Experience the future of charging with INIU's remarkable 65W technology.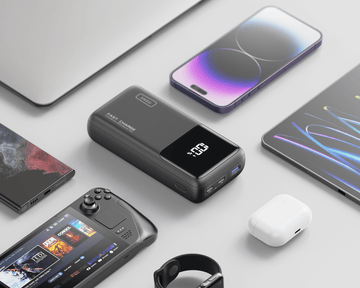 Even Wider Compatibility.
INIU battery charger matches with most laptops, tablets, mobiles (iPhone, Samsung...), and small devices as AirPods. Tend your fast charging and trickle charging needs smartly.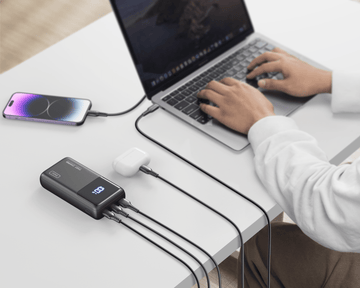 Charge 3 at Once.
Triple ports are at your pick. Dual USB-C ports directly fit both new iPad and new iPhone, and one USB-A port for your old devices.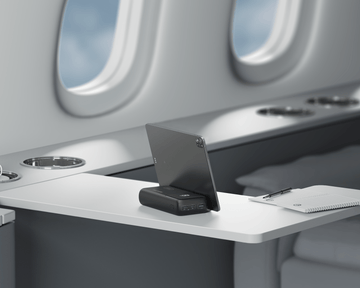 The Airline-Approved 25,000mAh.
The USB C portable charger power bank fast charging massive power supply can charge
iPhone 14:4.4 Charges
iPad mini:2.2 Charges
Samsung S23:3.7 Charges
MacBook Pro 14":2.4 Charges
Recharge in 3-Hour.
Save hour On-the-Go. *For best result, please use 45W cable and charger to recharge.
Handy Phone Holder.
Push it out, place your mobile or iPad firmly and enjoy viewing hands-free.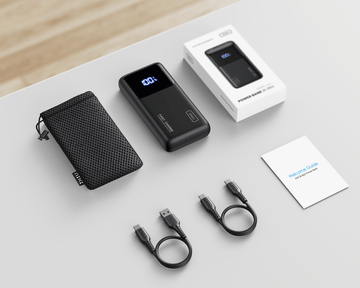 What's in the box
INIU 65W usb c battery bank*1
USB C to USB C cable*1
USB A to USB C cable*1
User manual*1
Travel pouch*1
30-day money back guarantee, industry-leading 3-year warranty, and lifetime technical support.
Specs
Input
5V=3A 9V=3A 12V=3A 15V=3A 20V=2.25A 45W(Max)
OUT1
5V=3A 9V=3A 12V=3A 16V=3A 20V=3.25A 65W(Max)
OUT2
5V=4.5A 4.5V=5A 9V=3A 12V=2.5A 30W(MAX)
OUT3
5V=4.5A 4.5V=5A 9V=2A 12V=1.5A 22.5W(Max)
OUT1+2/3
45W(Max)+30W(Max)/22.5W(Max) (5V=3A 9V=3A 12V=3A 15V=3A 20V=2.25A)+(5V=4.5A 4.5V=5A 9V=3A 12V=2.5A)/(5V=4.5A 4.5V=5A 9V=2A 12V=1.5A)
OUT1+2+3
45W(Max)+15W(Max)+15W(Max) (5V=3A 9V=3A 12V=3A 15V=3A 20V=2.25A)+(5V=3A)+(5V=3A)
Others
Compatible Models
•MacBookPro16"/(96W/140W)/MacBookPro14"(96W)/MacBookPro15"(87W)--(Not Full Speed) •MacBookPro13"(61W)/MacBookAir13"(30W)/MacBook12"(30W)--(Full Speed) •iPad Series/iPadAir Series/iPadPro Series/iPadmini Series--30W •iPhone13ProMax/14/14Plus/14Pro/14ProMa--27W •iPhone12/Pro/ProMax/mini/13/Pro/ProMax/mini/14/Plug/Pro/ProMax--20W •Smsung S23+/S23Ultra/S22+/S22Uitra--Superfast Charge 2.0(PPS45W) •SteamDeck--45W Full Speed •NintendoSwitch--39W Full Speed •GooglePixel6/Pro/7/Pro--30W(PPS) •AppleWatch/Airpod/Samsungwatch •Laptop:HP Envy/HP Spectre/Dell XPS13、Dell Latitude/Dell Inspiron/Think Pad X1/Google Pixel book Go ,Etc-Under 65W Full Speed
*Full Speed: MacBook Air/Pro 14"/15.4"/13.3'',Dell XPS 13,Lenovo ThinkPad X1,HP Spectre,iPad Pro/Air/mini,Samsung S9-S23/Note 8-10,Pixel 3-7, Switch/SteamDeck. Limited Speed:MacBook Pro 16"2021,Dell XPS 15. *How to Fast Charge:Your device and charging cable both support fast charging.