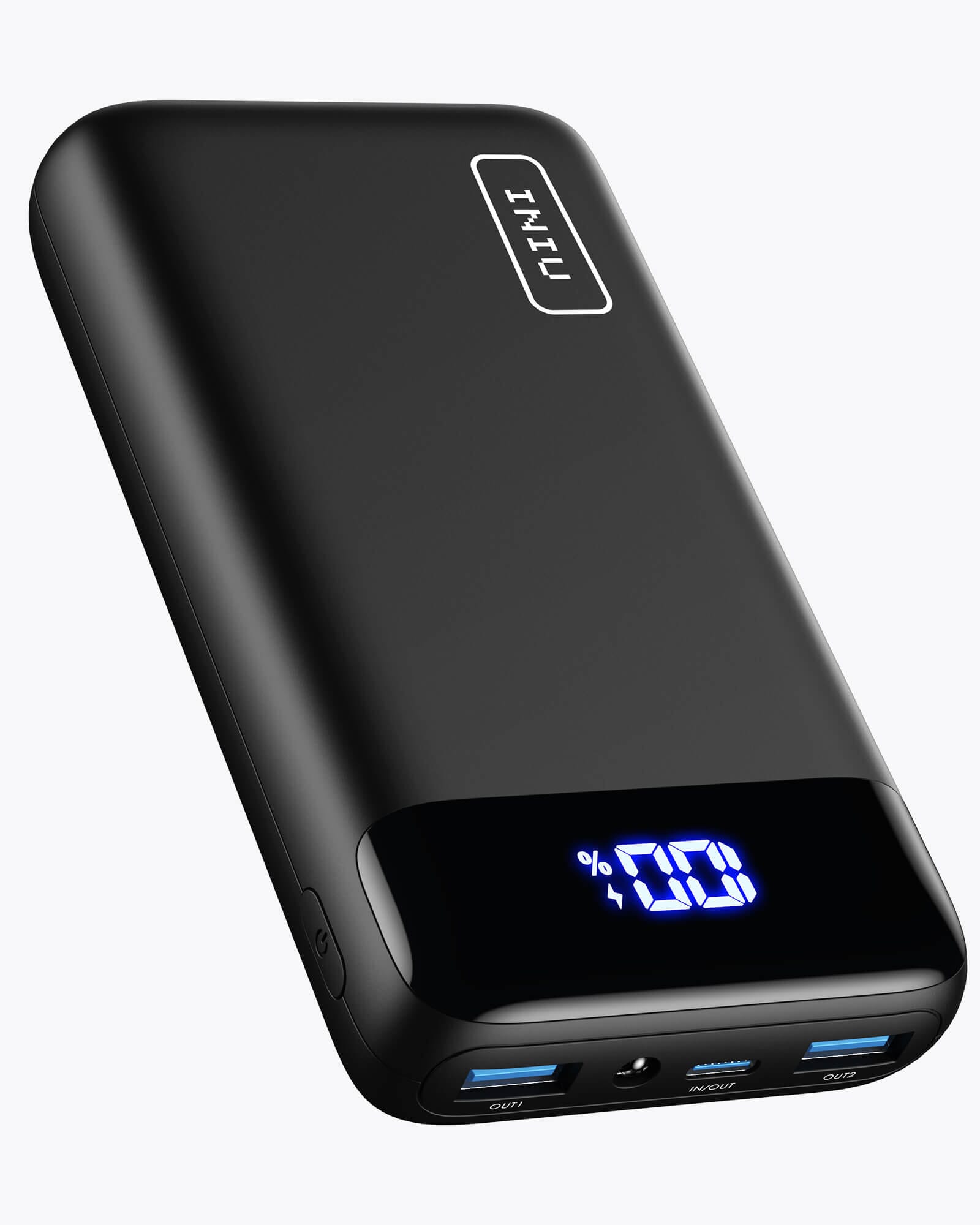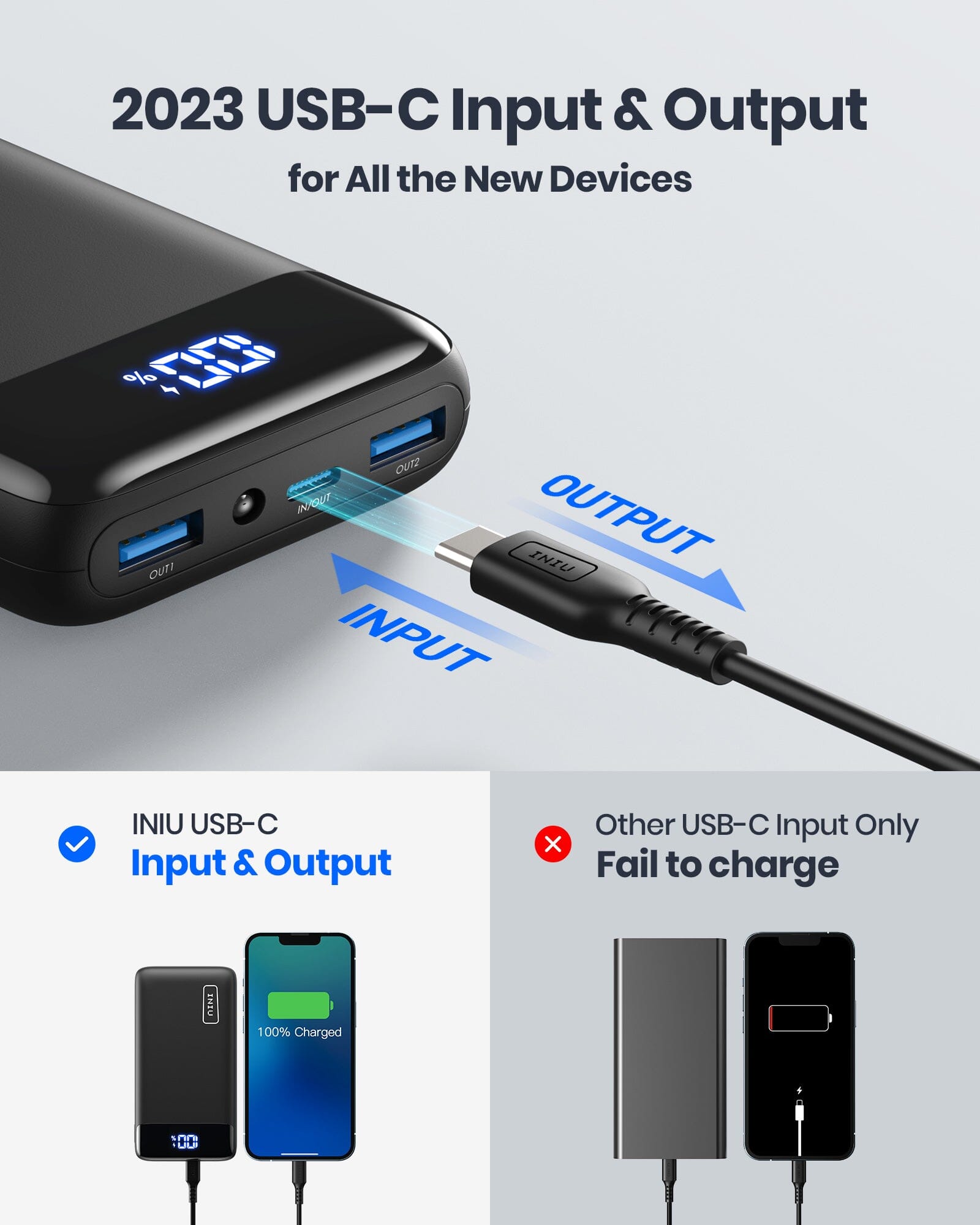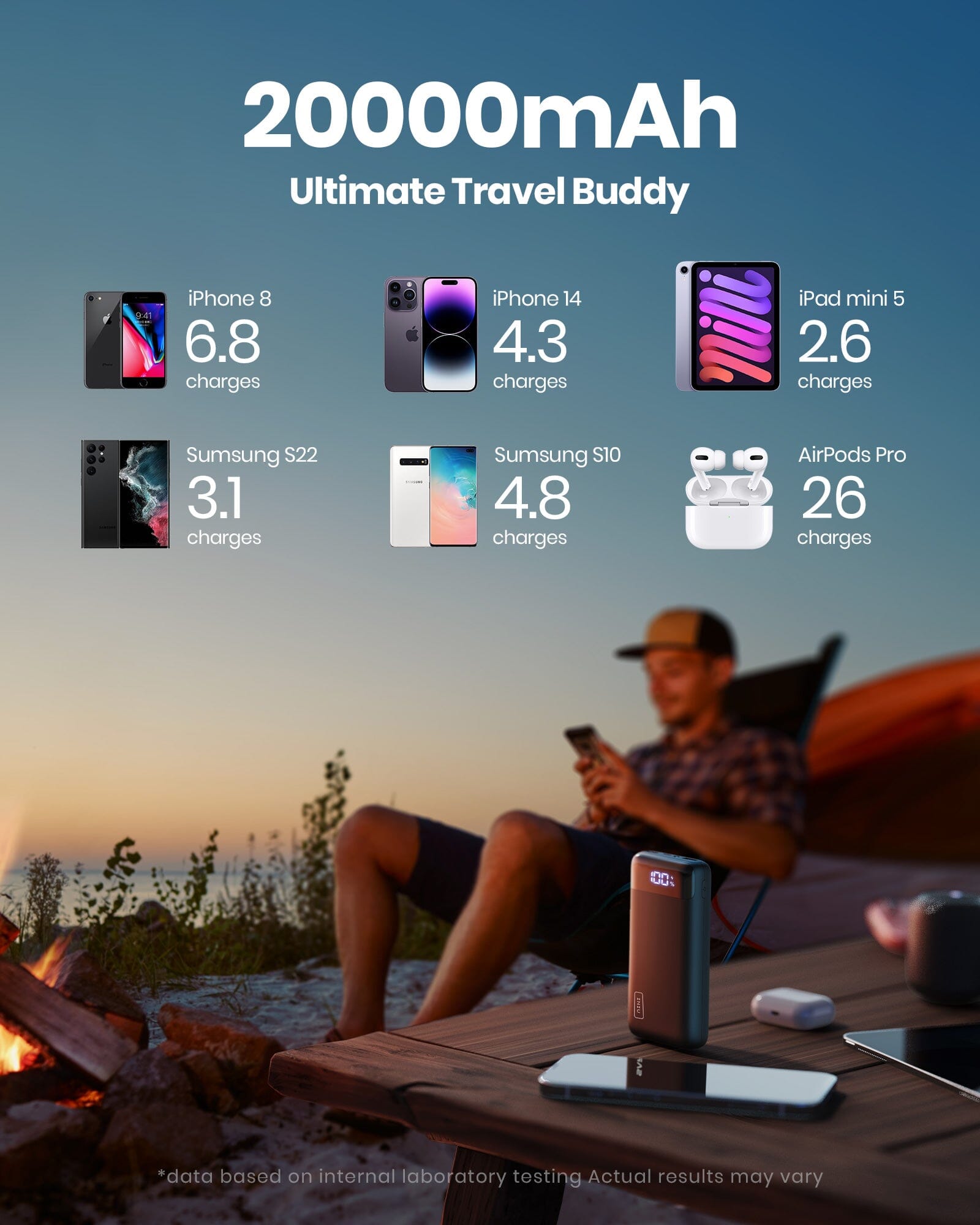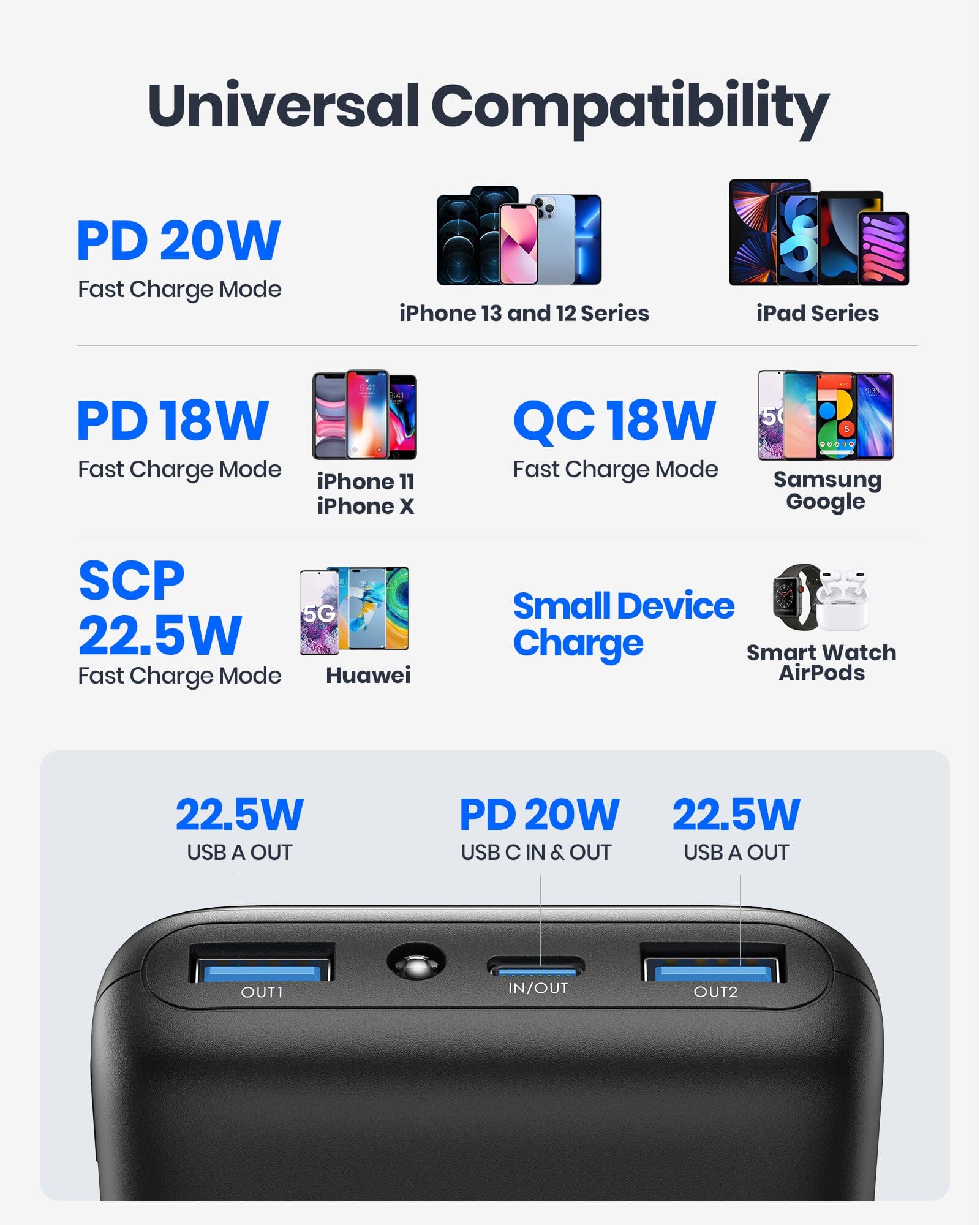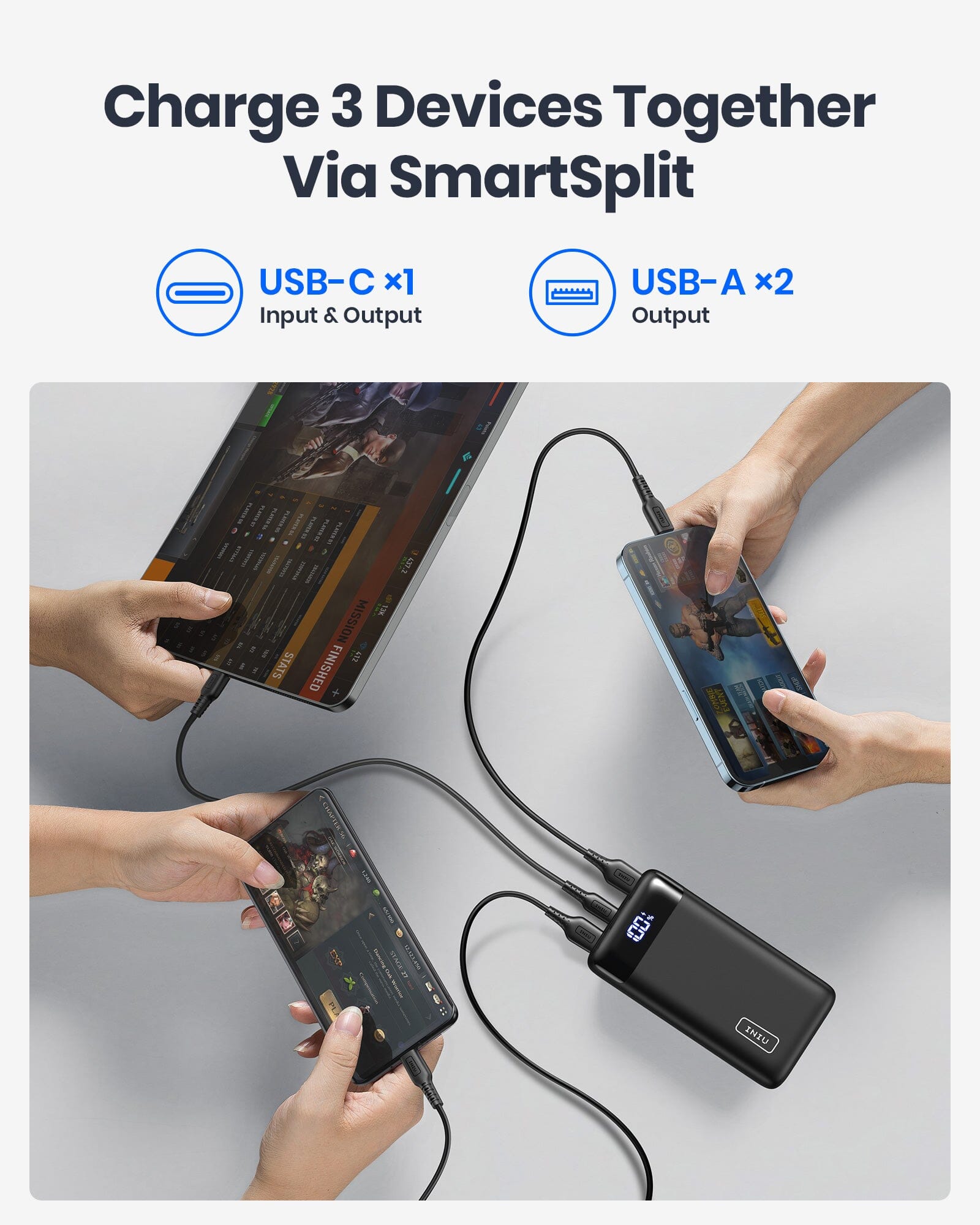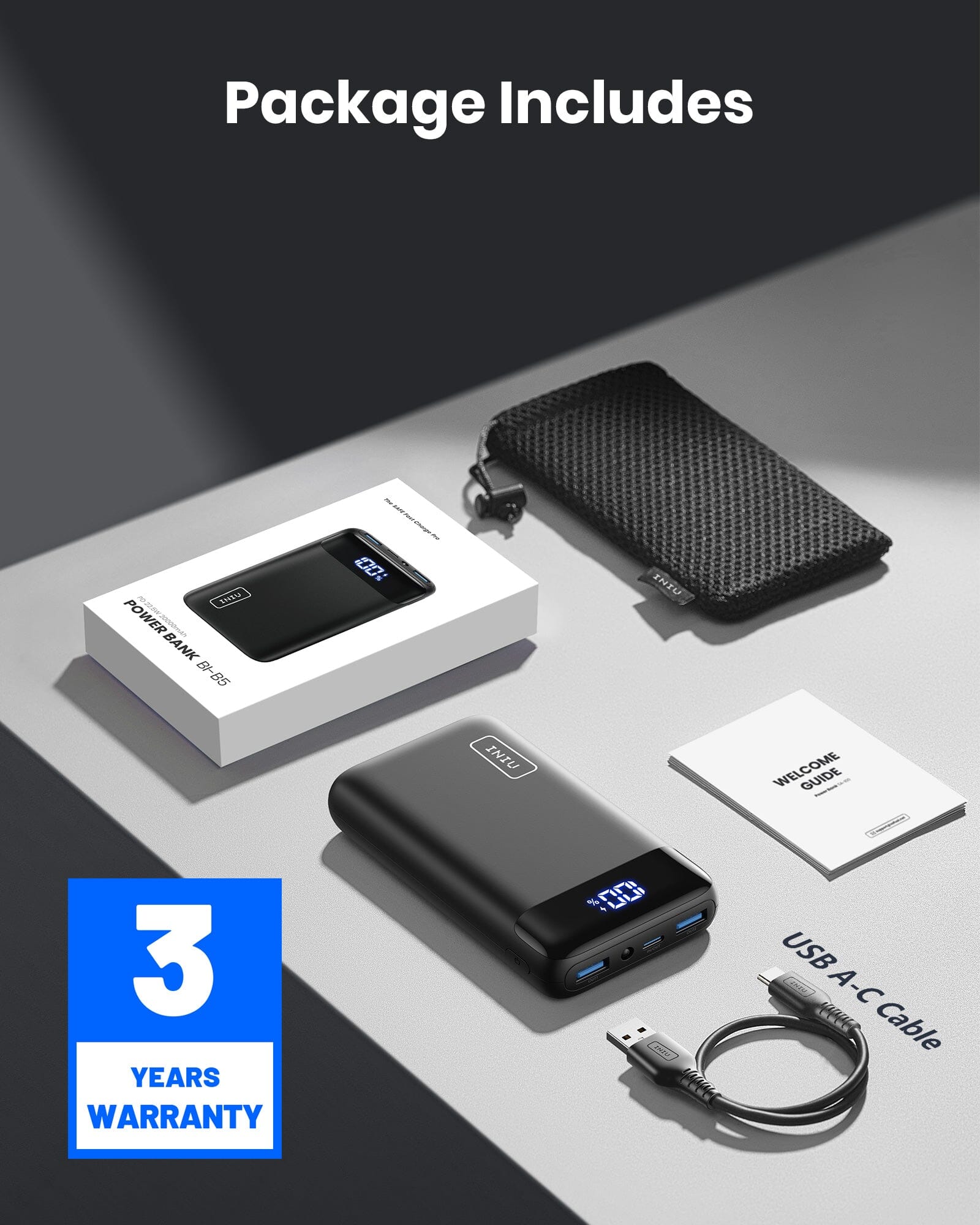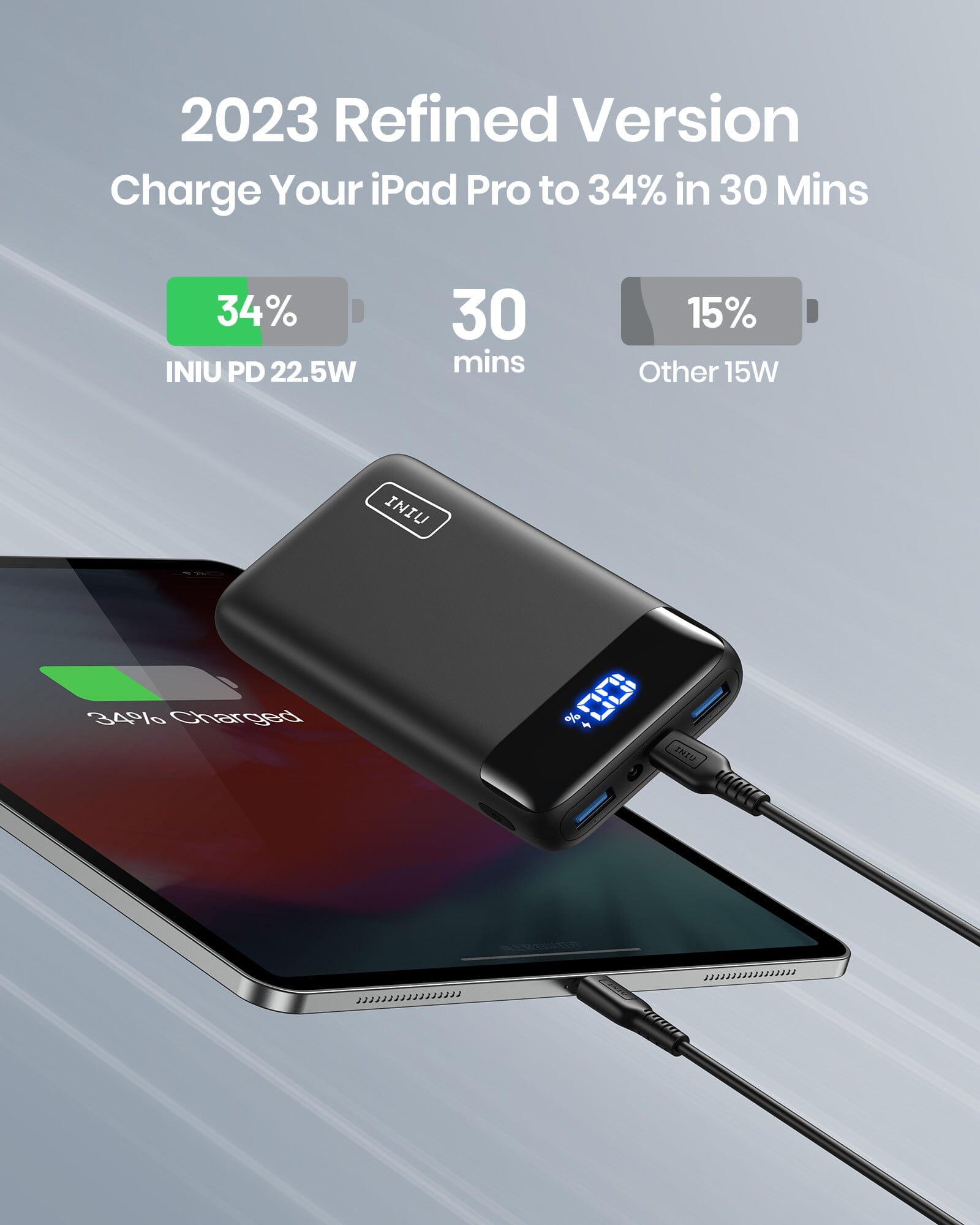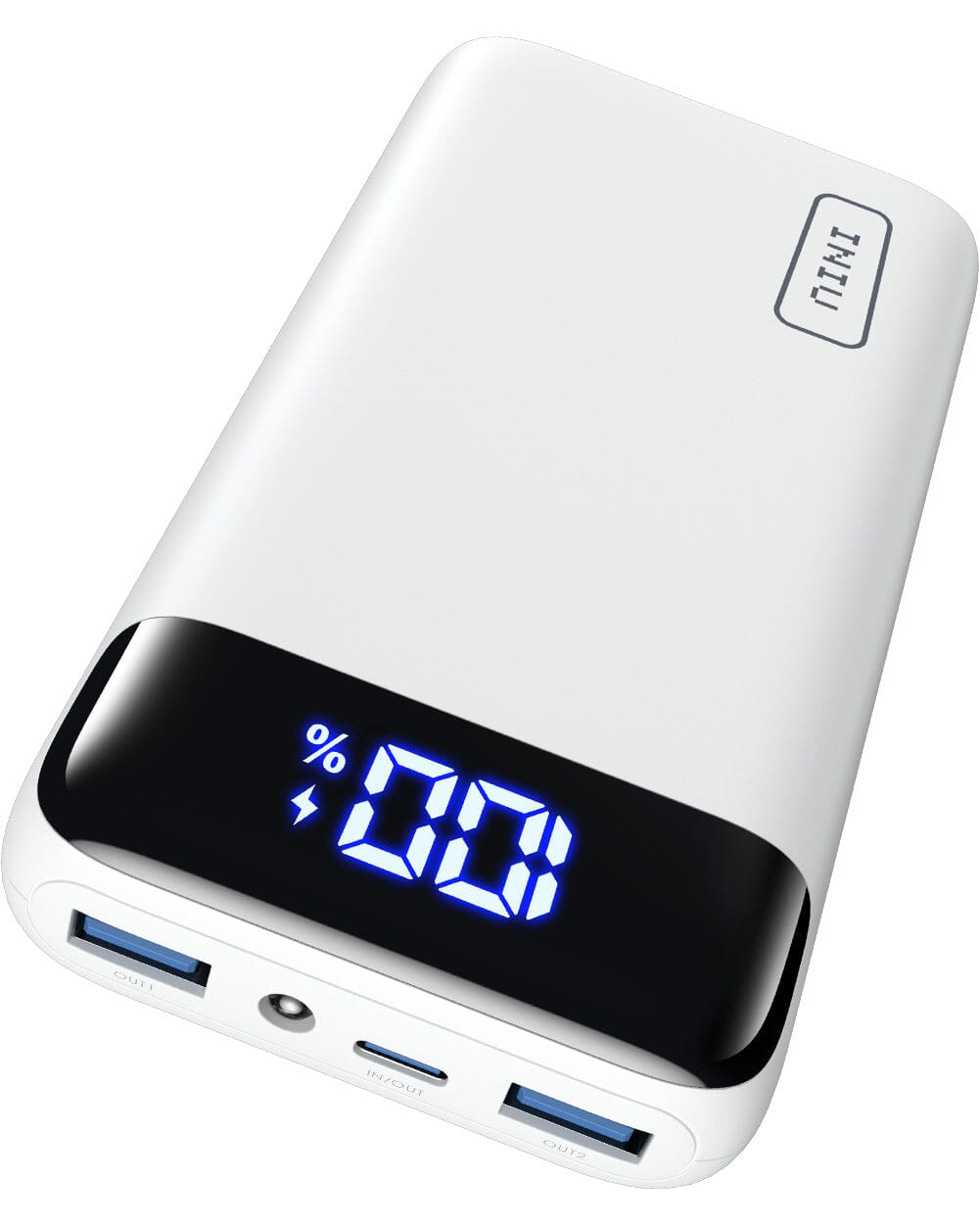 INIU B5 Power Bank, 22.5W 20000mAh, PD 3.0+QC
Sale price
$29.99
Regular price
Trusted Delivery

Free Expedited Shipping
No Reason 30-Day Money Back

3-Year Warranty

24/7 Customer Support
30 Days Price Match Guarantee
INIU guarantees that we will refund you the difference if you find a lower price from us within 30 days of your purchase
Endorsed by Top Influencers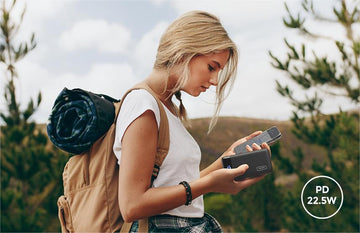 Fast Charge Your iPhone
Charge Your Phone up to 61% in 30 Mins With the upgraded 22.5W output plus the latest PD3.0 & QC4+ fast-charge technologies, your phone can be charged at 61% in just 30 minutes.
iPhone 14 - 4.1 charges
Fast Charge Your iPad Pro
Charge Your iPad Pro up to 34% in 30 Mins Most power banks in the market cannot charge your iPad or charge at a snail's pace. However, INIU with 22.5W high-speed output can charge all the existing iPad even the newest one at FULL speed.
iPad Pro - 1.8 charges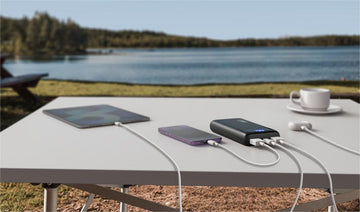 Charge THREE at Once
With one USB-C port and two USB ports built-in, it can juice up THREE devices simultaneously. Triple-port design allows you to share portable power with families and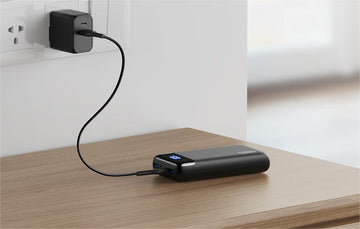 20000mAh for Days out
20000mAh huge capacity is stored in a compact body weighing 12.8oz/365g.
Comply with TSA carry-on baggage battery rules under 27000mAh.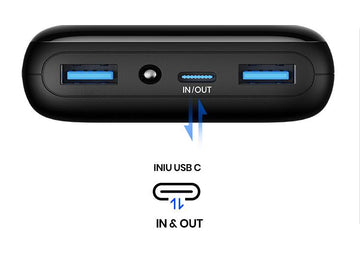 Charge & Recharge via the Same One USB-C Port
Charge Your Devices Directly via Original USB-C to USB-C or USB C to Lightning Cable.
Charge the PowerBank via USB-C Cable.
Preview
Specs
Connector Type:
USB Type C, USB Type A
Fast Charging Protocols:
USB-C Input: PD3.0/PD2.0 Output: PPS/PD3.0/PD2.0 USB-A:QC4.0+/QC4.0/QC3.0/QC2.0,SCPFCP,AFC,MTK PE2.0/PE1.1, SFCP
Output
USB-C:5V-3A,9V==2.22A,12V--1.5AUSB-A: 4.5V- 5A,5V-= 4.5A,9V-=2A,12==1.5A
Others
Compatible Phone Models
Cellphones [iPhone, Samsung, Google, Huawei, Xiaomi etc.]. [Sumsung] S21/ S20 ultra/ S20/ S10 Plus/ S10/ S9/ S8/ Note 20 Plus/ 20/ 10 Plus/ 10/ 9/ 8, And more, [iPhone] 14/ 14Pro/ 14 max/ 13/ 13 Pro/ 13 Pro Max/ 12/ 12 Pro/ 12 Pro Max/ SE/ 11 Pro Max/ 11 Pro/ 11/ SE/ 10/ XS/ XS Max/ XR/ X/ 8/ 8 Plus. Eearbuds [Airpods, Google Pixel Buds] etc.
Why Does It Feel Like a 'Not Sure 20,000mAh'?
Understanding Capacity Loss
All the power banks could only supply 60%-70% battery to other devices, since around 30-40% of the capacity is lost in circuit heat and voltage conversions.(Actual Capacity ≈ 12000-14000mAh)
General Formula
(PowerBank Rated Capacity × 0.6) ÷ Device Battery Capacity ≈ Number of Charges
eg. (20000mAh Powerbank × 0.6) ÷ 3279mAh iPhone14 battery ≈ 3.6 charges

Full Recharge Time
It depends on the power of the wall charger used: 18W fast charger - 6hrs; 5V/2A charger - 10 hrs; 5V/1A charger - 20 hrs
Aftersales
Just in case you have any questions, we encourage you to keep the card, package, or our user manual where you can find us easily. Ask about anything! We'll get back to you within 24h.
What is the output capacity?
20000mAh is a value what shows a battery capacity. It is not 100% correct but to simplify it I would say it is an equivalent of an amount of energy a battery can hold. It does not matter what current you use - 1A or 2A as long as it is within of battery operational range. In both cases it is the same amount of energy what can be provided by battery. You just will consume it faster or slower, but energy amount still the same in both cases.
It is important to understand that energy saved in a battery is used not only to charge something. There is a chip/convertor inside, what will take some amount of energy needed to produce a desired output current/voltage, so some energy will be used to warm up an air outside of that chip :) If that conversion is not efficient, it will waste a lot of energy and overall efficiency rate will be low. So if is capable to charge iPhone 11 Pro only 4 times before full discharge, then it means 3050*4=12200mAh of energy used to charge iPhone, while 20000-12200=7800mAh will be wasted just to warm up the air around. It explains why it shows 20000mAh (battery capacity) in a description, but only 12200mAh used to charge your device. Also, in common case the more the current is, the less efficiency rate will be. It means with 1A current you may charge iPhone 4 times, however, if you take 2A, it probably will be enough only for 3 charges. (all numbers are approx, just to demonstrate an idea).
So, if your power bank is warm\hot during charging a phone, it means it uses low quality\low efficient convertor, what is wasting a lot of energy saved in a battery.
Is the usb c port for input only or can it be used to charge a phone with rapid charging with a usb c to usb c cord?
Agreed with getkyle. The seller's response is incorrect. It can charge up to three devices at once. It can charge from both the two standard usb-a ports as well as charge at PD and QC standard through usb-c. You can also charge the battery bank through the usb-c port so it acts both as in/out and it is labeled as so on the device
Does this power bank support fast charging?
Yes, it can support fast charging for your phones. It can fuel your iPhone 14 up to 61% in 30 minutes. You may have more time to enjoy yourself!